So a pitcher is in a bit of a pickle, and as a coach, you know you need to call time out to go and talk to her. A big part of coaching, in my opinion, is knowing when to call that time out to go and talk to a pitcher. Timing is everything with those time outs. That time out can serve as a tool to calm down your pitcher and/or defense. It can also serve as a way to slow down the other team. You must have a feel for the game and understand when that time out needs to be called!  Sometimes it can be called too early and sometimes it can be called too late.
EVERY pitcher has been through those tough innings; innings where you can't throw strikes, innings where your pitches can't seem to miss a hitters bat. Negativity is most likely already running through a pitcher's head, and if that is the case, it's going to be hard to get outs with all of those negative thoughts piling up in a pitcher's mind. If a coach is going to call timeout to go and talk to her, don't make it worse! Be positive for her. Be a rock. Be a source of information that is going to HELP her get through this icky situation.
Remember, when a time out is called it is all about HER in the circle.
Give Her a Small Mechanical Fix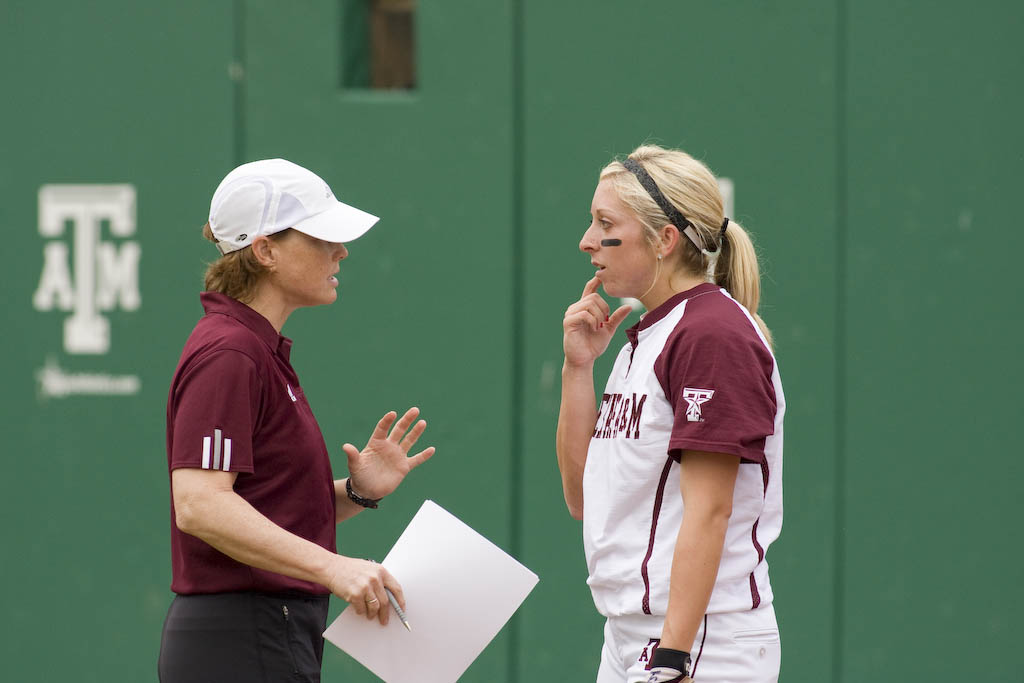 Maybe ONE thing mechanical might be helpful. I'm not always one to like to talk about mechanics during a game, in fact I do not really endorse it, but in some situations I do think it can be helpful. I know from being a pitcher myself that pitchers look for quick fixes in practice and in games. Them trying to think about one small mechanical change can help get their mind off of the pressure they are feeling in the circle and they can feel like that one mechanical fix can be the one thing that turns their game around. I know it sounds silly, but pitchers are funny and quirky like that!
We are so used to hearing coaches tell us what to do, and knowing that when a coach tells us a mechanical fix that we get better results, that this could actually work during a game. I am all for a pitcher thinking for herself and being her own pitching coach in the circle during the game, BUT I also know that sometimes the game passes you by very fast when nothing is really going your way, and you need that shoulder to lean on to try to help dig you out of the hole you got yourself into.
I am NOT saying to go out and reinvent the wheel, but one thing a pitcher could key on. "Hey make sure you have a quick back side." "Hey make sure you're not falling off." "Let's get some faster arm speed going on and attack this hitter." There are certain comfort mechanics that makes every pitcher feel better and put back at ease. Find out what those comfort mechanics are for each pitcher.   The worst mechanic you can tell her to fix is the one she has been trying and trying at practice to work on but can't seem to get.  Tell her just one quick thing, not 5-6 things.  That one thing could get her in the right frame of mind to mentally take on the next hitter with a positive attitude.
Mind you, the mechanical fix might go in one ear and out the other if she is not used to working with you. She won't trust what you're telling her, so she is less likely to feel better and stronger in the circle after you talk to her. You better build a relationship prior to calling the timeout with your pitcher. 
Stay positive, stay calm
If you go out there and look like you are in a panic, then your pitcher and infield will start to panic – I GUARANTEE it. Girls are so good at picking up on emotions and tightness from people, especially their coach. So even if you THINK you are being calm and are collected, are you really? Panic mode does not help anybody, and it really doesn't help your team stay calm through a tough situation and feel like they can work out of a jam and end up making a come back. Nobody plays well tight.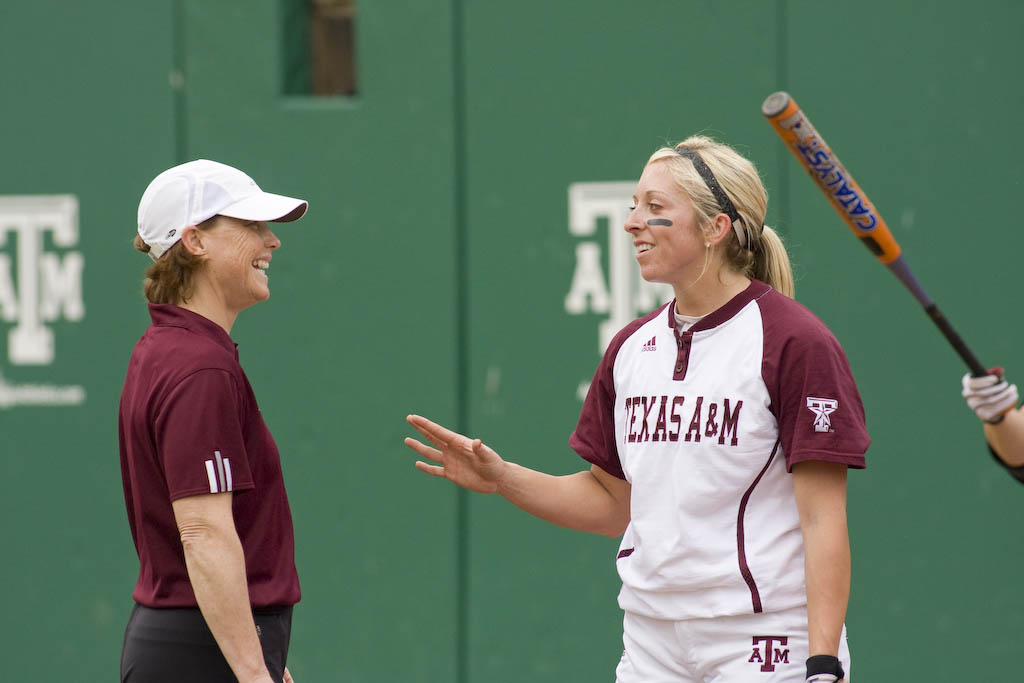 Things like "let's throw strikes" might seem like the ideal thing to say and may seem positive because it doesn't have a negative word in it, but it really doesn't have a great connotation to it. A pitcher is fully aware when she is or is not throwing strikes. It's pointless for you to tell her "let's throw strikes" if you are not going to tell her anything after that comment to help her do so. It just makes her more frustrated, and you're stating the obvious.
Every pitcher wants to feel like her defense and coaches believe in her.
"I know you can do it." "You can work through this." "I believe in you." Mind you, this must be said with good body language and a good attitude coming from the coach or they are pointless comments and actually work against you. Give her a sense of comfort, not disappointment. The last thing girls want to do is disappoint anybody. Girls are such pleasers.
Things that are generally good to say to every pitcher are, "Slow yourself down. Take a little bit more time in between every pitch and remember to breathe." A lot of pitchers get in trouble because when things start to go downhill they start to work faster and take less time in between pitches. By slowing down, it gives you extra breathing and extra time to think/focus on the task at hand.
Tell her the plan for going at this next hitter
We all like plans. Plans can give us a bit of ease and confidence. Knowledge gives us comfort. If you go out to talk to your pitcher, a helpful thing can be letting her know how you're planning on throwing the next hitter. "Hey this girl got out on a change up her last at bat, you made her look really bad on it. Let's try to set up that pitch again in this at bat." OR "I noticed that this girl CANNOT hit the outside pitch. Let's throw her out there and see if we can get her to swing and miss or roll over a ground ball to the left side."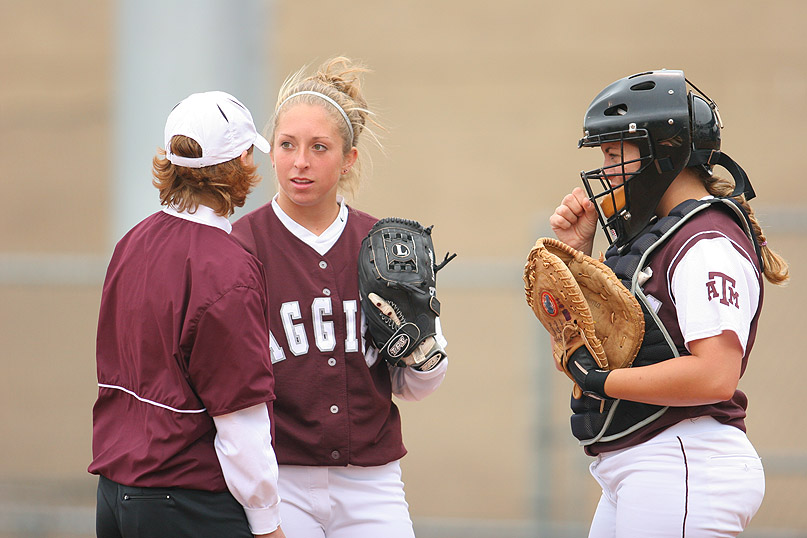 OR "Hey this girl is seeing the ball well, we are going to try to pitch around her, not give her anything good to hit. You've had success against the girl on deck, let's try to go at her." THIS is helpful information.
If she has had 3-4 hits off her in the game, where the hitters have really squared up on a ball, then it can be good to tell her the plan is to start mixing speeds a little bit more OR remind her to work slightly more down or slightly more off the plate. Minimize the adjustment. It's not a BIG one, just being able to work inches in order to have more success against the hitters in getting them to miss.
Help a pitcher recognize what pitch is working best for them. As a pitcher sometimes you get so caught up in the inning and in the moment that everything is going by really fast. You're just throwing. You're not pitching. That time out can be used as a reminder to point out what is working well for a pitcher, "Hey your screw ball is looking awesome, let's stick with that pitch and go at these hitters and see if we can get out of this!" (Now..realize sometimes as pitchers we can be delusional and think that one pitch is working, when it's really not…)
You as a coach have to be really in tune with the game and really in tune with your pitcher.
If you are not going to go out there and give her helpful information, then your timeout is only really going to be used to slow down the other team, but your pitcher isn't going to mentally be getting anything out of the meeting.
One of the coaches on the team should be dedicated to working with the pitchers so that they can develop a relationship and an understanding of each other. It's hard for a pitcher to listen to 3 different coaches giving her information.  All 3 coaches may think they know pitching, and they may be giving a pitcher different information and different things to work on.  That is mixed signals and can be confusing.  One coach working with the pitchers is the best in order to develop a strong relationship and keep things simple mentally for the pitcher.
Every pitcher is different with how she wants to be approached (we all have different personalities). Every pitcher is different with the things she keys on with her mechanics. Instead of thinking about what YOU like to say or teach, or what YOU like to hear, really understand what SHE likes to hear. Work with her before the game, and understand what her pitches are looking like. Understand what some of her "quick fixes" are when she is pitching and things she likes to hear that make her feel comfortable outside of the game.
The more a pitcher feels like you are trying to get to know HER, the more likely she is going to be to listen to you. Where coaches get into trouble is that they make it all about them and are not customizable with how they approach or work with a pitcher. Remember there may be things that you are saying that seem like good mechanical fixes to YOU, but doesn't resonate well with a pitcher. She might not understand it; it might not click with her. So it's up to you as a coach to communicate differently to truly speak to her. Challenge yourself to come up with something different. Or here is a novel idea, ASK her what she wants to hear during a game that can help her get through a tough situation. If she doesn't know because she has never thought of it before, then tell her to take a couple days to think about it, and get back to you.