MY NAME IS AMANDA SCARBOROUGH
I definitely grew up with the "softball is life" mentality, hanging out at the ball field on weekends and shuffling from one lesson and one practice to the next.  The lessons I have learned and the people I have met along the way have been life changing and have put me into the position I am now — to live a life of different adventures and traveling across the country doing what I love.  As a kid and even in college, I never would have thought that I would be doing what I am doing now…
"A good teacher can inspire hope, ignite the imagination, and instill a love of learning."
"Every great dream begins with a dreamer. Always remember you have within you the strength, the patience and the passion to reach for the stars to change the world."
"Believe in yourself, and the rest will fall into place. Have faith in your own abilities, work hard, and there is nothing you cannot accomplish."
It began in Houston, Texas…
I was born on May 10, 1986 to my parents, Mark and Sally Scarborough.  What a lot of people don't know about me is that I am an only child. Getting involved in softball all started when I turned 5, my Dad and I went to Oaks Dad's Club Little League field in Houston and signed me up to play softball. Little did I know this would be the beginning of the end!  The first team I ever played for at Oak's Dad's Club was called the Crickets (what a great name my first team!). Once I began playing softball, I can remember that almost every birthday and Christmas present I received was softball related and was either a bat, glove or a new pair of cleats. I started taking pitching lessons when I was 8 because my league team at Oaks Dad's Club team needed a pitcher so my dad volunteered me.  Once again…another life changing decision.
Student of the Game
In addition to taking pitching lessons, I also began taking hitting lessons. Even though I lived in Houston, I would travel to Pearland for my lessons (with traffic this was 45 min-an hour + drive). I knew right away that I loved the game and I worked really hard both at lessons and at practice to become better. Softball did not necessarily come easy to me, like it may to some.  I quickly learned that I was going to be someone who would have to put in the hours to practice if I wanted to have success at the sport.   I began logging many miles, spending alot of time with my mom in the car doing homework and talking about life.  I would eventually travel weekly as I pursued my love for the game driving to and from practice and games, driving all over the city of Houston.  I joined my first travel ball team when I turned 9 I decided to play select ball and joined 12U Team Texas.  I was the youngest person on the team, and I will be the first to tell you that I was the least talented.  At one point, a parent came up to my mom and told her that I would never make it as a pitcher and I should probably just stop.  Guess I eventually proved her wrong…..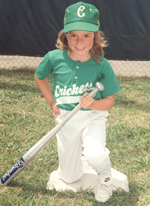 After playing with Team Texas for over a year, I changed teams and began playing for Texas Express out of Spring, Texas. I played on this 12U team until 14U at which time we formed the first ever Hit Away team, a team that played together through my first year of 16U. Then I played for Impact Gold my sophomore year in high school thru the beginning of my junior year. I finished out my high school select team career playing for Texas Storm Gold. Some of my best memories are of the many travel adventures I had while playing on these select teams. I learned alot and gained much knowledge not only from the coaches of these teams but all my teammates as well. You realize not only your love for the sport, but the strength of your dedication as you play up to 6 games a day in a 100 degree heat.
During this time at the age of 14, the summer before my freshman year in high school, my parents and I moved from Houston to the small town of Magnolia, nestled between Tomball and The Woodlands, north of Houston. At this time I was also playing volleyball, but decided after my freshman year to no longer participate in that sport so I could focus on and dedicate my time and effort to softball. I had decided it was the sport I loved the most, and I set my goal of working hard on both pitching and hitting in an effort to earn a college scholarship to a D1 school. I was fortunate enough to make the varsity team my freshman year at Magnolia High School and was named the 18-4A Newcomer of the Year in 2001. While playing for Magnolia High, I was named 16-5A Most Valuable Player in 2003 and 2004, All Greater-Houston 1st team in 2002 and 2003, The Houston Chronicle All Greater-Houston Player of the Year in 2004, TGCA All State in 2003 and 2004, and NFCA High School All-American First Team in 2003. Just like I had to work hard at softball to see some success on the field, school was no different.  I was always the type of student who HAD to study in order to do well in school and get good grades.  Going to school and trying my hardest to have perfect attendance was always stressed to me as something of importance.  When it came time to graduate in May of 2004, I graduated #9 in my class of 520 students.
Maroon and White
It was during my sophomore year in high school that I started to get noticed by college coaches due to my high school achievements and my success at tournaments with my 16U & 18U travel teams. Even though I was being recruited by both the SEC conference and the Big 10, the only conference I was hoping to gain the attention of was the Big 12 as I had my heart set on playing for Texas A&M. In November of my junior year, my dream finally became my reality as I verbally committed to play softball for Texas A&M and become an Aggie, WHOOP! To this day, I know it was the one of the best decisions I have ever made.
I played softball for Texas A&M from 2004-2008. My freshman year I got the call to start on the mound in the first game of the season in 2005 against University of North Texas. It was my first collegiate game to not only play, but to pitch, and I ended up pitching a complete game no hitter. What a moment for my first time out in the circle wearing a Texas A&M uniform.  We had a very strong team in 2005 and had high hopes of going to the Women's College World Series in Oklahoma City after winning the Big XII Regular Season Championship. However, in the last weeks of the season we were struck with major injuries to two of our starters, one of which was myself.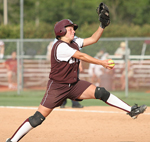 Our leadoff hitter and speedster, Sharonda McDonald, tore her ACL in our last regular season series against Missouri in the last week of April.  Then on May 9, 2005, the day before we were to leave for the Big XIITournament in Oklahoma City, while playing 1st base during practice I was hit on the right side of my head by a line drive, causing not only a skull fracture but causing my brain to bleed. This injury caused me to be hospitalized, so I missed playing in both the 2005 Big XII Tournament and NCAA Regionals, too. After Regionals I received a medical release allowing me to play in our Super Regionals Series in the end of May against Alabama under one condition: I had to wear a helmet on the mound while pitching. I did whatever it would take in order for me to get back on the mound, even if it meant wearing a helmet and pitching at the same time, which believe me at first was very embarrassing, but I so badly wanted to be out there playing! Unfortunately, our post season run was cut short as we lost against Alabama, 2 wins away from going to the WCWS. I finished the 2005 season as a First Team All American, posting a .70 ERA, the best in my career. I also had a batting average of .410 that year with 43 RBI's, 11 home runs and a slugging percentage of .719. In conference, I was named 2005 Big XII Freshman of the Year and Big 12 Player of the Year, being the first and only Big 12 Player to ever accomplish this feat.  To be completely honest, at the time of receiving All American, Big 12 Player of the Year and Big 12 Freshman of the year, I didn't really understand the magnitude of this feat.  Looking back on it now, I am truly amazed.
During my junior year in 2007, Texas A&M made its first appearance in the WCWS in over 20 years. It was an incredible experience playing at the WCWS, even though our team went 2 and out. We lost our first game playing Tennessee, facing Monica Abbott, USA National Player of the Year on the mound. Following that loss to Tennessee, our 2nd loss came to Baylor. Losing those two games made us even more determined to get back to Oklahoma City the following year, play better and stay longer. In 2007, I was again named an NFCA first team All American and shared the honor of Big XII Co-Pitcher of the Year with Oklahoma's Lauren Eckerman.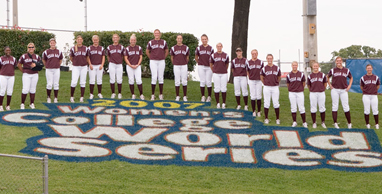 My senior year, 2007-2008, was one to be remembered for so many different reasons. It had both my best highs and worse lows of my career. I started off my senior season in the best shape I had ever been in.  Through the first games 13 games I was on pace to hit the best I had hit in my entire career, although my pitching at the beginning of the season was struggling a bit.  It was in February of 2008 in a game against Stephen F. Austin University that my life got thrown a loop.  In one of my at bats in the second game of a double header, I went to bunt for a hit and when I went to push off to run to first base, I felt a very sharp pain in my right foot. The pain was so bad that I could even finish that at bat and I was out for the rest of that night. At first, it seemed it was somewhat minor injury, just thinking I had a mid foot sprain. The doctors thought I would be back on the field in a matter of weeks.
Unfortunately, March came with no sign of the injury healing, in fact, the pain had gotten worse. I then went to a well know orthopedic surgeon in Houston, who after reviewing my X-rays, gave me the devastating news that the injury was a career ending injury called a Lisfranc fracture and would require immediate surgery to repair. This injury is very serious and extremely rare. In the same doctor's visit that I found out this news about my right foot injury, I then asked the doctor to exam my left foot, too, while I was there as I had experienced pain in that foot for several years since high school. After carefully examining this foot, he looked up at me and told me that this foot would require surgery, too. He explained that my left big toe had detached from my foot; overtime the ligaments connecting the ball of my foot and toe had all torn. This would require a reconstruction of my left big toe and the ball of my foot would require reconstruction as well. In addition, my arch had collapsed under the pressure and weight of my body and needed reconstruction also. He then mentioned that I would probably never pitch again and may not ever be able to run again either. The news was took me for a shock as I remember sitting in the room with my mom hearing things I never thought I would hear, especially in my senior year.  Something I will always remember is making the phone call to Coach Evans right after the doctor's visit and telling her the devastating news.  This was probably one of the hardest things I've ever had to do because it was the first time that I had actually said out loud that I was out for the season and done with my softball career.  What made it so hard was that I didn't know my last game was going to be my last game to actually set foot out on the field.  Shortly after calling Coach Evans, my mom traveled back from Houston to College Station and I called a team meeting at my house to let my team know of the news.  Led by a strong senior class of 4 players – me, Megan Gibson, Jami Lobpries and Jamie Hinshaw, we vowed that even though I was injured, the team was going to rally and be able to work through anything that came out way.
From Student to Teacher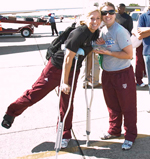 I had one surgery in March and another surgery in June of 2008. I was no longer able to help my team on the field so I decided to focus on helping them from the dugout, especially during games. I really wanted to stay busy and feel a part of every win and every loss that our team had throughout the season, even though I knew there was absolutely no chance I was going to go out there and play.   In a way, I became a player/coach. My role ended up changing in my senior season from an every day starter to someone who sat in the dugout and charted pitches, looked over opponents scouting reports and communicated in between innings with our catcher, Erin Glasco, and our pitcher, Megan Gibson.  DUring the game I would study the hitters, take notes and help put together a strategy on my ideas of how to pitch to them the next time around.  This information would go on a card that Erin Glasco wore on her wrist that I updated every inning.  At the time all of this was happening, I just thought of it as a way of staying connected to the team, however I now know that this is when I learned of my true passion for coaching.
In my senior season of 2008, we won the regular season Big 12 Championship and the Big12 Tournament Championship. Senior, Megan Gibson, had one of the best seasons in an Aggie uniform in history.  We rolled into the post season playing extremely well, winning our Regional, hosted in College Station, and moving on to Super Regionals, again hosted in College Station against Stanford University. 2 wins against the Stanford Cardinal locked in a spot for us in Oklahoma City at the WCWS for the second year in a row.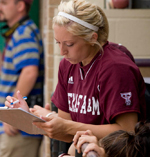 We had a magical run in Oklahoma City in 2008.  When I got injured earlier in the season, so many people had counted us out and we proved them all wrong, not only by making it to Oklahoma City, but by making it to the National Championship Series.  At the WCWS in 2008,  we had wins against Virginia Tech, Louisana-Lafayette and Florida.  We faced a very talented Arizona State team in the finals. This was by far the most magical and memorable experience of my life. Being on the Hall of Fame Stadium field in Oklahoma City and being one of only two teams left playing under the lights was breathtaking.  It's hard to find words to explain it.  Even though I never took the mound or played 1st base in Oklahoma City this year, it remains by far, one of my most favorite memories of my life. Not too many people can say they competed for a National Championship, but the 2008 Aggie softball team did just that. We fell short to ASU that year and came in as National Runner Up. However, that week and a half in Oklahoma City is something I will never ever forget, and I was so unbelievably proud of every person on the team, as we accomplished something that had not been done in Aggie Softball History since 1988.
Storied Tradition
Texas A&M has a ton of school traditions, as does the softball team. One of those traditions is for the seniors to leave their cleats on
the home plate of the last field you play your last game on. For me, Jamie Hinshaw, Jami Lobpries and Megan Gibson, that field was in Oklahoma City at Hall of Fame Stadium. It was an extremely emotional night because we were such a tight-knit class, but we were also extremely proud to drop our cleats on that historic field after a memorable week of games for the Aggie softball program. That moment standing at home plate with my 3 classmates is engrained in my head and is a picture that is continued to be used to this day.
At the end of my career at Texas A&M, I found myself in the top 10 in several statistical pitching and hitting categories. At the plate, my career batting average was .355 with a .608 slugging percentage, 125 RBI's, 42 doubles and 25 homeruns. On the mound, I posted a 1.45 career ERA and 71 wins through 109 appearances. In my 3 years on the mound, I had 27 complete-game shutouts, with 537 strike outs through 599 2/3 innings of work.
Academically, I was honored for my success in the classroom as well. I was a three-time Academic All-Big 12 first team selection, a two-time ESPN The Magazine Academic All-District choice and I became the second Aggie softball player ever to be named an Academic All-American my junior year, which I consider a a huge honor and one of my greatest achievements. I graduated in December of 2008 with a Bachelor's of Arts in Communication and completed my Master's of Science in Sport Management in 2010.
After my senior year, in 2008-2009 season, I stayed on with the team and worked as a student- assistant, primarily working with the pitchers, but also working defensively with the team and working with the hitters. Though I held the title of our student-assistant, I was considered the pitching coach for the team. During this season, I began also giving individual instruction on the side of my school and Aggie softball duties. In 2009, I got a call from ESPN asking me if I wanted to commentate a Super Regionals on ESPN U in the post season.  I gladly took up this amazing opportunity!  In 2009 I worked my first ever softball game on TV and I was the color analyst for the UCLA/Missouri Super REgional In Los Angeles, California.  Little did I know at the time, this would be the beginning of something very special…
In the 2009-2010 season, I was named the Aggies' Volunteer Pitching Coach. Even though it held the title of volunteer, I was the full-time pitching coach, assuming responsibility of the pitchers on our team, while still giving individual lessons on the side any time that I could in betweeen the Aggie softball schedule and getting my Masters. After the completion of this season, ESPN asked me to come back and work the studio for Sports Center U in Charlotte, NC for the weekend of the 2010 Super Regionals.  After the completion of this season, I decided I wanted to go out on my own and not coach collegiately.  I really enjoyed giving lessons and holding clinics and wanted to be able to call more games on ESPN.  I had a certain vision in my head of where I wanted my career to go.
A new goal, same vision
It's hard to put exactly what I do for a career into one sentence, because I do so many different things!  I am a sports broadcaster, a private pitching coach, co-founded a clothing line, I'm a motivational speaker and I help coach a an 18U Gold tournament team in Houston.
This TV career has been a whirlwind!  Learning the TV life has been rewarding and challenging; to me it's like learning a new sport with a new language.  My work as a college softball analyst has increased every year since 2010.  I had lofy goals in 2010 of hoping one day to do 50 college softball games in a season.  Last college softball season, in 2013, I worked around 45 total college softball games.  Ironically, what has been the biggest blessing is the creation of Longhorn Network.  Longhorn Network covers every single one of Texas softball's home games and it started in the fall of 2010.  In the spring of 2011, the softball season, I got a call and got asked to work games on Longhorn Network.  ESPN owns Longhorn Network, and since I had previously worked with ESPN, played in the Big 12 and live in Houston, it seemed like it could be a good fit to do the Texas softball games on LHN.  I have worked with Longhorn Network for the past 3 college softball seasons, and have done over 50 games amongst those three seasons.  I attribute Longhorn Network to my increasing knowledge and getting comfortable in the booth of softball games on TV.  Without the amount of reps that I have received from them, I might not be in the position that I am in today.  Like anything, you must practice to get better at it, and the only way to practice being a college softball analyst is to actually get games on TV.  Through the past three season, not only have I worked with Longhorn Network, but I continue to do college softball games on the ESPN Family of Networks, as well.
The amount of coverage of college softball continues to increase every season, and so has my reps.  In 2011, I did about 20-25 televised games.  In 2012, I did about 30-35 televised games and this past season in 2013, I did about 40-45 games.  The next goal I am taking on is getting into sideline reporting for college football and college basketball.  I have worked men's and women's college basketball games on the sideline and got to work sideline on my first college football game in November of 2013.
Because of my growing television career, it has pulled me from being able to give lessons and give as many clinics.  I do still get a chance to go out and work with the youth, but I absolutely LOVE being able to call college softball games and work my way into sideline reporting. I try not to say no to anything that comes my way involving TV, which leads to less days to give lessons and put on clinics across the country.  I still absolutely love working with young girls and it has been a challenge to balance a schedule filled with lessons, TV and coaching the Texas Firecrackers Gold, a tournament team in Houston.  And as if softball coaching and a TV career wasn't enough, I have officially started my own clothing line with my best friend, Savana Lloyd, called bellalete.  To learn more about why I started this clothing line, click here.
Follow my Journey
I plan in the future to continue giving as many lessons as I can fit in around the Houston area and giving clinics across the country when my TV schedule does not pull me away.  My ultimate goal is to get to do as many college softball games as I possibly can in the spring and work as many college basketball games and college football games in the fall.  While doing this, Savana and I plan to continue to expand bellalete and touch as many women as we can with an inspiring message.  My life up to this point has been so crazy with what all has been thrown at me – the good and the bad alike.
Last, but not least, I want to mention some things about me personally. Yes, we softball girls have a life outside the wonderful world of softball!  I absolutely love to travel.  I want to see the world!   I've been to lots of different countries and continents including Australia, Thailand and many different countries in Europe.  I also love finding time to work out, this way I can feel better about eating desserts since I have a big sweet tooth. I like trying new food; since I get to travel a lot, I am always on the lookout for a solid restaurant in all of the different cities and towns I venture to.  I love chocolate and chocolate chip cookies, and well, really any kind of dessert that you put in front of me.  I will always be an active, sports loving person.  Not only do I like to play them, but I always enjoy watching them in person and on TV.  My favorite TV show ever is Friends and I've watched every episode at least 5 times.  I absolutely love the color pink, it's my favorite.  I always try to find time to be able to spend with my family and my friends, as every month I feel like I travel more and my time at home gets less and less, which effects the time I get to spend with them.
–Dream big, dream often and WHOOP!–
Amanda