Hey Dads,
I want you to think for a second about the way you talk to your daughter (or the way your husband talks to your daughter) when she is practicing or playing a game. Is it positive? Is it empowering? Is it in a good tone? Now think for a second more. Are you being honest with yourself and is how you think you are talking to your daughter the actual way? How you are talking to your daughter affects her far more than you know.
Right now, envision the relationship you want to have with your daughter once softball is over.
This subject to me is overly important for many major reasons: I see how some Dads talk to their daughters at lessons/tournaments/clinics, I know the effect my dad had on me personally (for the better), and I have seen the negative consequences from how some dads of friends or acquaintances have effected their lives now that they are in their 20's and 30's.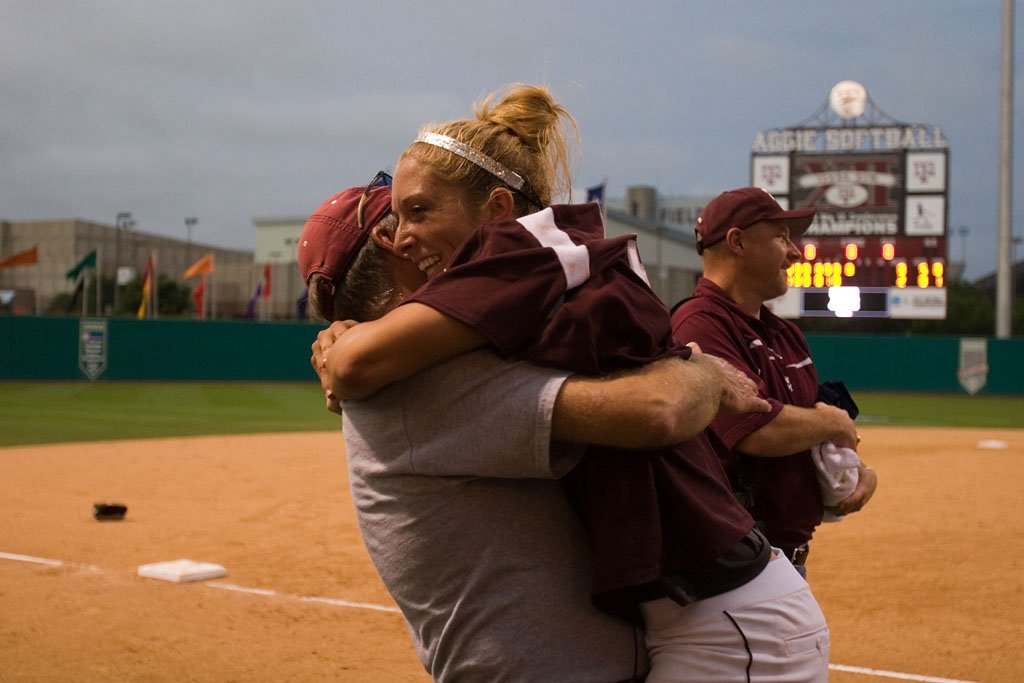 To the Dads who sit on a bucket or show up to hitting lessons and have a smile on their face, don't say a word or give constructive criticism at the right times, THANK YOU. Pat yourselves on the back. YOU are making our sport better and working to make your daughter into a confident young woman. To the Dads who have a yelling issue or cannot speak to their daughter's in a supportive way…we need to talk….
When I write this, replace "yelling" with any negative/unsupportive communication word of your choice; it does not JUST have to be yelling (could be bad body language, throwing things, overall tone/words).
 Remember, you can be "YELLING" by not raising your voice – your body says it all.
Sometimes, I don't think Dads hear themselves talk. Sometimes, I don't think Dads know what they LOOK like. Dads, there are a few things I want to remind you.  I promise this is only going to help me and you will thank me later…
Separate work and practice.
Ok, so you had a tough day at work (we all have them). Be a grown up and be able to compartmentalize work and softball. Come home in the afternoon and have a fresh start with your daughter and be able to put work away for a little bit. You are able to control how you talk to your daughter and how you treat her during practice. Not only are you creating a better environment for her practice with you, you are also teaching her that when she has days with school AND practice, she, too, needs to be able to put school/relationships/problems aside, and be present, focused and a good teammate at practice. Set a good example of what it looks like to allow yourself to put problems once you show up to the softball field.
Yelling is just plain awkward…for others around you. 
If you're yelling at someone, it makes everyone else around you uncomfortable. You may feel better because you are getting out emotions and think you're proving a point, but believe me, everyone around you does NOT feels at ease. It makes others around you tight. Tightness does not lead to good physical results. Be someone who lifts others up, not bring them down. Create an environment that makes others around you better; and an environment that does not consist of demeaning or reprimanding a player for lack of success or results. That yelling has the opposite results of what you want – for more than just 1 person.
Learn a better way to communicate.
I might be wrong here, but I feel like people yell because they feel like they cannot be heard. There are better ways to communicate than to yell. When you are loud, you are itching for someone to hear you, when really, it's usually when your daughter starts to tune you out. If you are trying to communicate something to someone and they are not hearing you, then it is your job to try to get through to them by finding a different way to word what you are saying. Remember, we ALL communicate differently. Yelling usually doesn't make someone hear what you are trying to tell them. When you are yelling, you are missing our on opportunities with your daughter to help her grow. Those moments of yelling are a waste of time and could be replaced with more positive words to help your daughter get more belief in herself. When you communicate, challenge yourself to come up with a more creative way of speaking to your daughter if you don't feel she is listening to what you are saying. Communication is key in life, especially once softball is done. By teaching your daughter to communicate effectively, you are setting a good example around her for something that will benefit her future past softball.
Want someone yelling at you at your job?
How would you like it if someone was sitting over your shoulder at work and constantly yelling at you your every move if you weren't doing things perfectly? "NO that's not how you do it, do is THIS way." Would that make you feel more comfortable at work? I think not. Softball is fun, but you also work at it like it's a "job." YOU might be learning something new and challenging at work, just like girls are learning softball. Softball is not easy. YOU get to hide at work and maybe make mistakes where the whole entire company doesn't know you messed up. In sports, you're on a stage, where people already know if you mess up, you don't need someone reminding you that you made a mistake by vocalizing it during practice or at a game.  Trust me, as a player, 90% of the time you KNOW when you've made a mistake. The other 10% of the time should be used for teaching a part of the game that the player might not know, yet.
You are setting the standard for future relationships.
I want you to think on a very serious note for a second. If your daughter is growing up with you yelling at her, your tone and and yelling is all she will know about communication. Are you teaching her that it's ok for other males to yell at her? I know you're not meaning to, but think about it for a second.
Right now, at this moment, you are most likely the most important male figure in your daughter's life. It's important you act like it. 
How you treat her and speak to her is influencing what is acceptable for how future males will speak to her. So if you are yelling at her and talking down to her, you are indirectly telling her that it is ok for a man to yell at her. Dads, let me ask you a question: is it ok for a man to yell at your daughter? Set the standard for how a man should treat your daughter. It's serious, but dads, you can set the standard on an every dad basis for your daughter and/or the team you coach. Set the very best example that you can and think bigger picture than what the score is at the end of the game TODAY or how your daughter is pitching or hitting that DAY. This last reminder is THE reason why I am addressing the Dads and not lumping the moms in there as well. (Moms, we can talk later).
Hey Dads,
work on these things, just like your daughter is working on softball. You have time to get better! For my big yellers out there (you know who you are), I think understanding why you are yelling in the first place is a critical part of working on it. There really could be various reasons you choose to yell rather than articulate your words in a more supportive tone….Maybe you're frustrated with the money they are spending on softball and not seeing results in the timely fashion that you think you should be seeing results. Maybe you are unhappy about some other part of your life. Maybe you are frustrated about your athletic career. Maybe you are yelling because that's how your dad treated you. Maybe you are frustrated with your daughter's playing time. None of them are really valid excuses to lose your cool and yell during softball.
If you are trying to teach your daughter to grow in the sport of softball and in life, it is your job to set an example and grow with her. You are never too old to stop growing. Take a step back and commit TODAY to being better for your daughter. It's not going to change over night, but certainly your family members and others will notice a difference in you in trying to get better at it.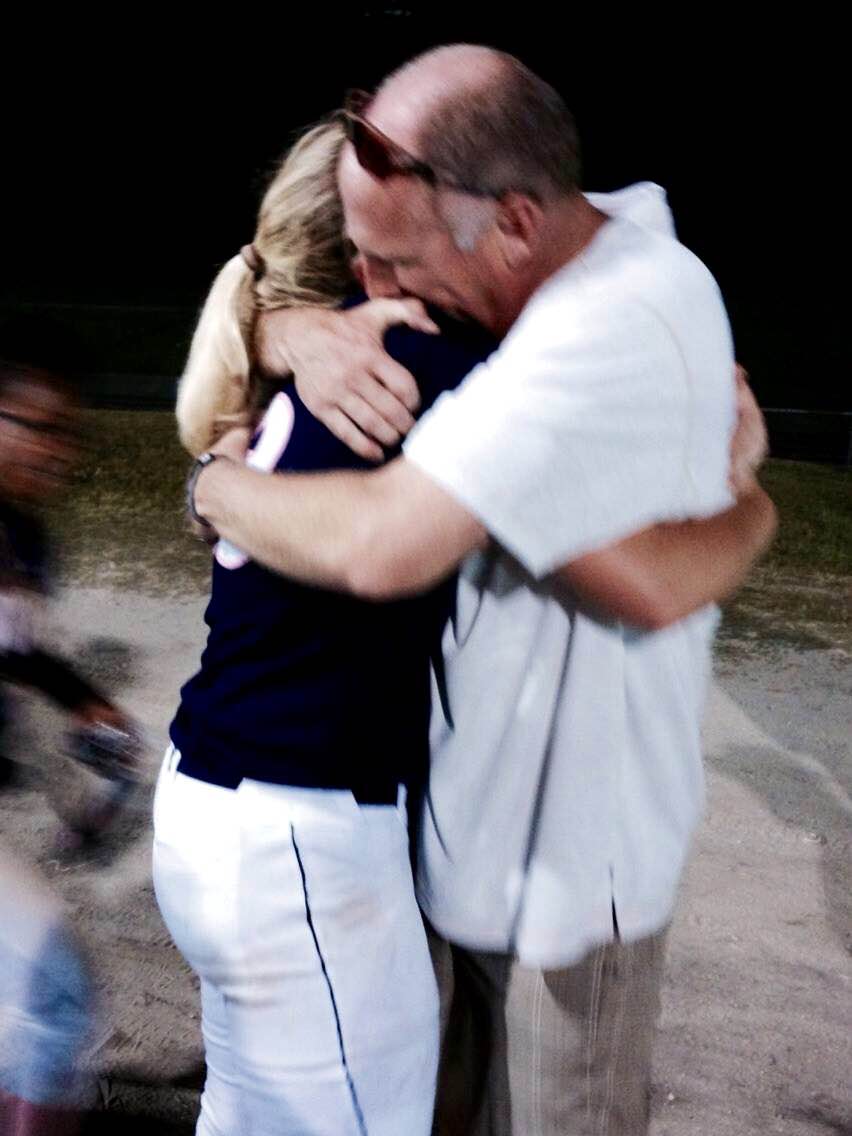 Hey Dads,
Remember at the end of the day, sports are supposed to be fun, have good energy and teach us life lessons. You don't want the lesson your daughter learns through sports to be that she can't be around her father in the future. If she is busy focusing on the negative circumstances on your relationship with her, then she won't be able to learn the real lessons sports can teach you; then she is really missing out on something special.
Have a solid foundation of a relationship with your daughter in games and at practice – I promise, years from now it is more important than any strike she throws or hit she gets. (And if you are interested in the "right" now, YOU are effecting her confidence during a game every single pitch).
The relationship you are building with her now is setting the foundation of your relationship with her 10-15 years down the road when she becomes an adult and faces the "real" world and actually needs you for something important. Want to be a dad to your daughter that she can call when she needs you most. Right NOW, when you are pitching or practicing with her, that level of "needs you most" is about her game of softball, but later it will be defined differently. If she feels she can't count on you now, then why will she feel like she can count on you later?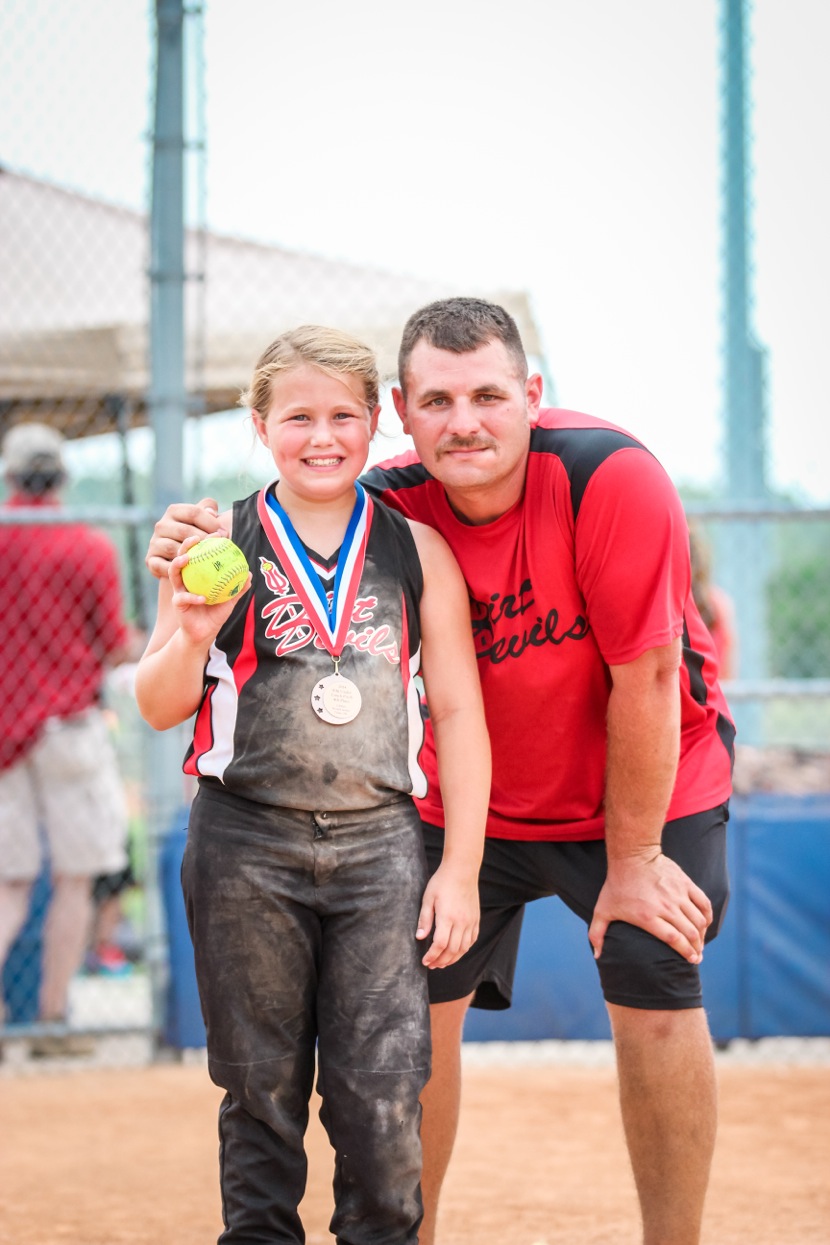 Thanks for reading. Don't forget to stop by Amanda's Shop