I get asked about confidence…A LOT.  Mainly because confidence (no matter what your softball mechanics look like) is a HUGE key to an individual's success on the field and in life. I might not know you, and I might not know your daughter, but what I know for absolute certain is that if she feels fully confident and happy, she will flourish and feel like she can achieve anything she puts her mind to.
Instead of thinking of confidence like it's a big mystery, it's important to keep it simple and know going into it that confidence will fluctuate (just like our bank accounts). It's vital to realize what is taking away from our confidence (just like what is it that we are spending our money on) and also what is replenishing our confidence (just like adding money to our account).
Everyone knows what it's like to look at your bank account and see deposits and withdrawals of money. Most people have a certain idea of where they want their checking account to maintain at. Maybe some people want $5,000 in there, maybe some people want $10,000. The amount of money each individual person wants to know is in there is different; the amount of confidence each person needs to feel is different, as well. Confidence is so subjective, but there is a way to make it more objective in each of our eyes…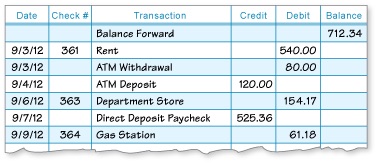 Okay, imagine your confidence is like balancing a checkbook.
Your confidence has its own Checking Account. There are things in life that will withdraw your confidence, and there are things that will deposit into your confidence.  The items or situations that will deposit and withdraw confidence are different for every single person (in life and in sports). No two people are going to be exactly the same.
We each have different types of Confidence Accounts. For example, maybe you have a Pitching Confidence Checking Account, a Hitting Confidence Checking Account, a Fielding Confidence Checking Account.  Then, of course you have a "joint account" that is your Softball Confidence Checking Account.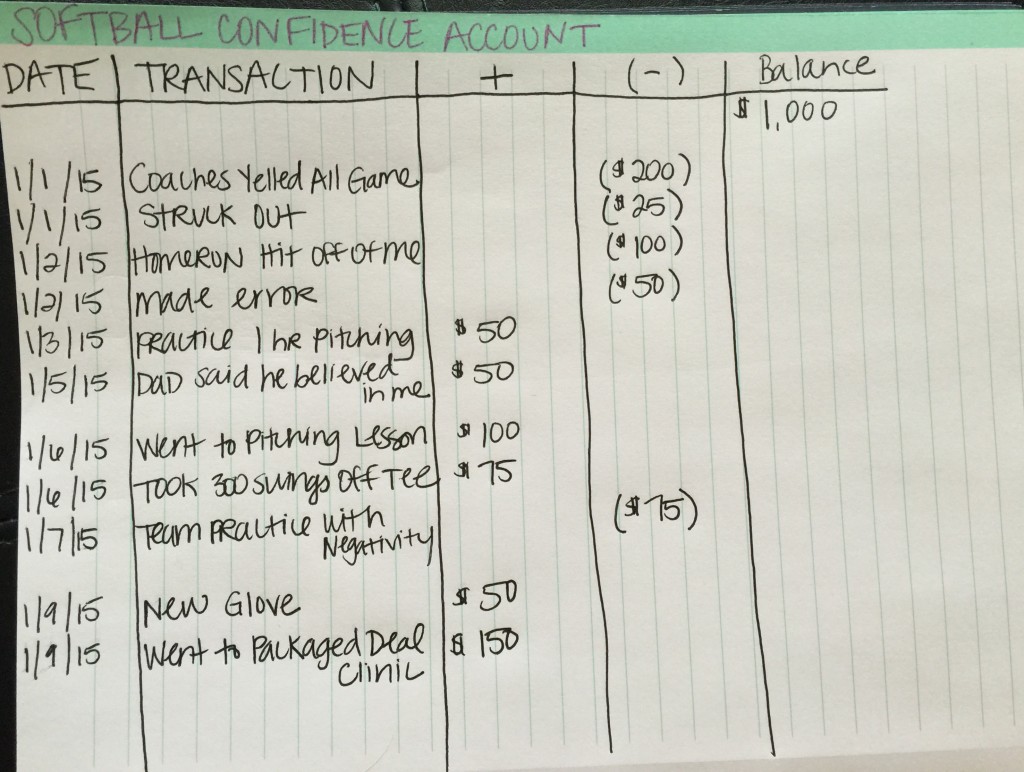 Let's say you start at $1,000 in your joint Softball Confidence Checking Account, and $1,000 is where you know you perform your best. Maybe you are on a team where your coaches constantly yell at you, your parents don't show you enough support and you also gave up 3 homers the last tournament and struck out 5 times. All of those things are major things that withdraw from your Confidence Checking Account.  The closer we get to $0, the less confidence we will have. (Just like a real checking account, imagine being close to $0 and the amount of anxiety and negativity one might feel). If you're close to $0 in your real checking account, you are going to find ways to make money to get that account back up. The exact same thing should happen with our Confidence Checking Account, although I feel a lot of young girls don't know how to get off of Empty.
So what is depositing into your Confidence Account? How is your "tank" getting filled back up? Most importantly, do you know what can fill up your Confidence Account? It's easier to find the things that are withdrawing from our confidence than the things that are adding to it. Every person, every player, will have a breaking point. The situations that lead to that breaking point and the amount of time it takes to get there will differ for every person. There are SO many things that can go into it – did you just recently move? Did your best friend on your team leave? Have you practiced as much as you think you should? Are you making big mechanical adjustments? Is your family supportive?
There will be times where your Confidence Account is overflowing, and there will be times where it's almost empty. It's only normal. However, the biggest question is if you know what it takes to get it back to where it needs to be. Are you able to recognize the situations that give YOU more confidence? Do you know what to do to get back to your confident place? Are willing to put yourself in situations and surround yourself with great people to help get you back where you know you are best and happiest?
I encourage you to monitor your Confidence Checking Account just like you monitor your bank account. Sometimes things are taking out of our Confidence Checking Account that we don't actually know are taking away from it. (Think of if someone steals your account information and goes on a shopping spree, and all of a sudden you look at your account and it's lower by $2000) The same can happen with our confidence.
Also, remember the more accounts you have to manage, the more difficult it may be to keep them all balanced and give them the attention they each individually deserve. A pitcher who hits and plays short stop has MANY different accounts. The more accounts you have, the more time you have to invest to making sure they are all fully loaded and being refilled. It is also important to make sure that one account is not effecting the other account (i.e. a pitcher taking her emotions to bat with her).
Try to find the ways to keep your Confidence Checking Account loaded! Oh, and also, every now and again, put some into savings….you may need it at a later date…!